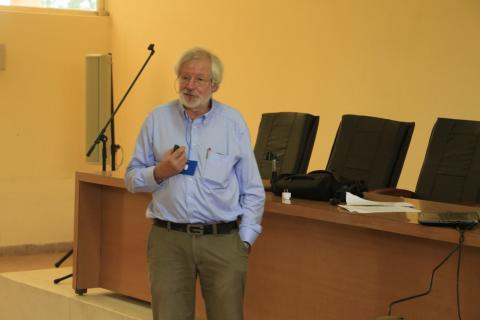 Submitted by: Natacha Reyes Escobar
The First PhD Scientific Workshop "Bringing knowledge into practice", constitutes an extensive programme of academic exchange between the Universidad de Oriente and the Free University of Brussels (VUB). As part of its schedule, professionals from both institutions have presented the most relevant results of research currently being developed.
Dr. Jan Cornelis, Coordinator of the research group IRIS (computer vision, image processing), of the Free University of Brussels (VUB) delivered a dissertation on strategic research in the field of biomedicine, related to computerization technologies and their social impact. .
In the university context, this type of research is the economic differentiator that values ​​and helps create biomedical technology, Cornelis explained, meaning that, to guarantee its success, it requires several actors such as the government, the university, the research group, the industry and individual participation at different levels that give it a systematic approach.
Cornelis pointed out that biomedical engineering leads to an unexpected breakthrough and demands to handle a growing innovation that has an impact in the economic and social spheres. For this purpose, it is necessary to carry out the planning at a strategic level, not fundamental or applicative. The process must be optimized.
Creating an ecosystem in which the inductive and deductive variants of research are conducted in a symbiosis requires strategy and vision, Cornelis said.
As part of the Workshop, several PhD students have presented their research results in the areas of cultural heritage, biomedical applications, pharmaceuticals, social and computer science and environmental studies.
The First PhD Scientific Workshop "Bringing knowledge into practice", takes place at the Julio Antonio Mella campus of the Universidad de Oriente, from November 6th to November 11th.
Translator: Lilia Sanz Gámez