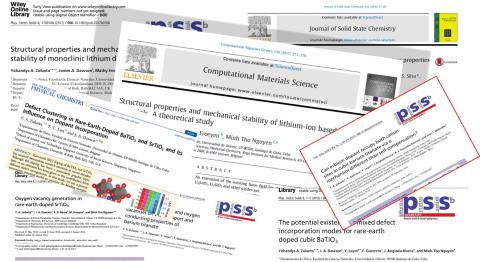 With 8 scientific articles published in two years and over twenty citations, MSc. Yohandys Zulueta is the PhD student who contributes the most to scientific publications as part of his doctoral training in the VLIR IUC Oriente program. With the upcoming doctoral defense, scheduled for May in Havana, we approach his science results.
During his doctoral research, Zulueta Leyva worked on lithium-based materials. He explains that they are very useful in batteries, mobile devices, nuclear reactors and in the absorption of carbon dioxide. "My thesis describes the structural, mechanical, transport and thermodynamic stability properties of such materials. Finally, a new tin-based compound is proposed, to be used as an auxiliary material in these applications. Actually we found the mechanisms that explain the conductive behaviors of these materials. From this part of the research there are already 4 publications in first group journals".
With his thesis, Zulueta, as his friends and students know him, proposes Tin as a new auxiliary compound to the international scientific community, with the same possibilities of use as Lithium.
Yohandis is part of a score of young people who will achieve joint doctoral degrees in Cuban and Belgian Universities in 2018, as part of the VLIR IUC Oriente collaboration program, in the context of the conclusion of its first work stage.
During his formative years, Zulueta has published in important academic journals in the field of physics and chemistry. Among his science materials, the texts Can erbium dopant occupy both cation-sites in cubic barium titanate via a mechanism different from self-compensation?, Influence of titanium and oxygen vacancies on the transport and conducting properties of barium titanate, Phys Status Solidi B 253 (2) and Consequences of Ca multisite occupation for the conducting properties of BaTiO3, stand out . Among the latest published articles Structural properties and mechanical stability of monoclinic lithium disilicate, Phys. Status. Solidi and 2018 Lithium Hexastannate: A potential material for Energy Storage are highlighted as well.
Prior to defending his doctoral degree and becoming Doctor in Physical Sciences for Cuba and Doctor in Chemical Sciences for the Belgium KU Leuven, Zulueta declares that the most difficult publication was the first one "because it is also the one that gives way to the whole thesis, where the theory with which we obtained the results, is proposed ". Among his latest articles we can find the science results achieved in the joint work among Cuban and British researchers.
Translator: Lilia Sanz Gámez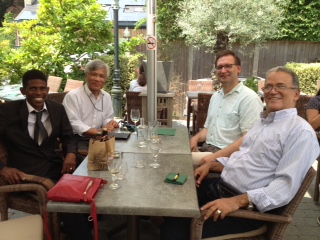 Yohandys Zulueta Leyva (first on the left) moments after his doctoral pre-defense in Belgium.
Photo: Courtesy Dr. Lutgarde Baten