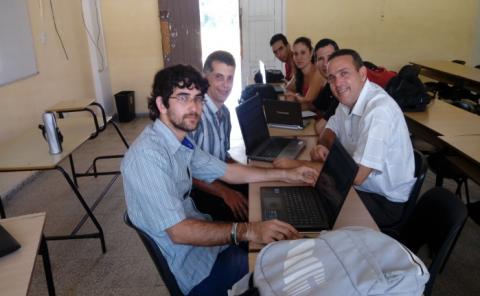 At least five endemic plants found in the central and eastern region of Cuba will be studied for their production and conservation through a new joint project Vlir-UOS - Universidad de Oriente – Universidad de Camagüey, led by Dr. Enrique Pérez Molina.
On the Cuban side, the Universidad de Camagüey "Ignacio Agramonte Loynaz" participates as the host university, along with the Universidad de Ciego de Avila, the University of Medical Sciences of Camagüey and the Universidad de Oriente, while the Antwerp Universities represent Belgium in this project. "It is about implementing a solid-state fermentation equipment to reproduce large-scale plant biomass of endangered endemic plants - explains Dr. Julio César Escalona, ​​local leader of P3 "Development of biopharmaceutical products from natural sources building a biotechnological capacity in the eastern region of Cuba". This increase must also have a pharmacological exploitation, which will economically stimulate the production of this type of plants".
At present, the training of experts in Botany and Plant Biotechnology in the country is led by the Universidad de Camagüey. According to Dr. Escalona, the installation of this center in Camagüey should complement the work that VLIR-UOS program at the Universidad de Oriente has been developing. "With the fermenter they assemble, for example, we can produce plant biomass of the species that we are valuing at a laboratory scale, especially those that are difficult to reproduce/propagate, considering the drought that the eastern region of the country has been going through. The possibility of conducting pharmacological research without the need of directly collecting large quantities of the species in their habitat and therefore not affecting the ecosystem, highlights the importance of this project.
Presently, the project is due to inaugurate the Center of Excellence for increasing the production and research of bioactive plants. For a period of four years, it will work on Cuban species of high ethnomedicinal value, while contributing to the training of new PhDs of Sciences.
Photos: Courtesy Dr.C. Julio César Escalona Arranz 
Translator: Lilia Sanz Gámez.