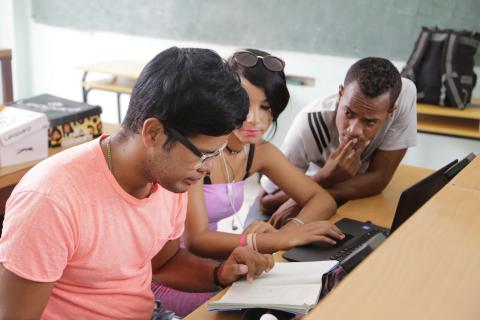 After almost 20 years of successful cooperation, the VLIR-UOS Flemish Interuniversity Council extends the call for the presentation of academic projects of JOINT, TEAM and South Initiativesto our country. Likewise, the Universidad de Oriente encourages experts from all areas to participate.
The TEAM and South Initiatives projects have a local scope and focus on solving specific problems of the regional environment, while JOINT projects have a national and international scope and their objective includes the formation of networks and groups for academic and scientific exchange.
The university management board requests that project proposals be sent to the Directorate of Science, Technology and Innovation (dcti@consejo.uo.edu.cu) and to Dr. Teresa Orberá Ratón, local leader of the VLIR-IUC program (torbera@uo.edu.cu)
All those interested should get in touch as soon as possible to work together with the University management board in the identification of counterparts and have all the necessary advice for the preparation of the projectsat their disposal.
Download the official document of the call of projects. You can access other information of interest.
 
http://www.vliruos.be/en/project-funding/calls-for-applications/calldetail/call-for-projects--team-south-initiatives-and-joint-2019_9277/
Documentos para conformar proyectos 
Translator: Lilia Sanz Gámez