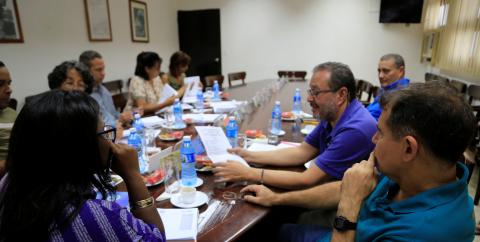 "The results of our programme are results of the Universidad de Oriente". This remark by Dr. Hichem Salhi marked the presentation of the schedule attached to the First PhD Scientific Workshop, sponsored by the VLIR-IUC-UO programme, before the chancellor and Vice-Chancellors of the UO.
In the meeting with the highest academic authorities, the Flemish leader insisted that the research lines of the UO have been studied and the programme has been inserted in them. "With the investment in infrastructure and the doctoral training of young researchers, we have tried to open the schedule to all academic areas and I hope we are achieving it".
The PhD Scientific Workshop: "Bringing knowledge into practice" will take place from November 6th to 11th. The topics to be discussed will revolve around Biopharmaceutical Products and Biomedical Applications, environmental research and clean technologies and a very wide-ranging session related to Cultural Heritage, Law and Social Sciences, among some others.
Dr. Salhi also pointed out that the Workshop will cover three important aspects: the transfer of knowledge and technologies, effective research and the communication of science. He also stressed the importance of working for the sustainability of the project and promoting collaboration with other universities in the country, especially the University of Camagüey.
The Belgian coordinator also said that the workshop is a bridge between the first phase of the program, which will come to an end in 2018, and the second stage which is scheduled to start in 2019. "I am proud of this work team; they have made a great effort to organize this workshop and I hope to see many young people participating", he asserted.
On the other hand, Dr. Diana Sedal, Chancellor of the Universidad de Oriente expressed her satisfaction concerning this intense scientific schedule. She added that, although she will not be in the city during the week, Vice-chancellors and members of the Direction Board will be partaking in these conferences almost permanently. "With the programme, we have learned to value our research. The need for the use of the English language and the creation of laboratories that support their learning, have been valuable."
The Chancellor and Vice Chancellors received the general schedule of the event and all the details of the celebration of the Day of the Belgian Culture in Santiago de Cuba, on November 11th. The attendance of the Hon. Mr. Patrick Van Gheel, Ambassador of the Kingdom of Belgium in Cuba, has been confirmed.
In the hours of Saturday morning, Dr. Salhi also met with all the Cuban project leaders, doctoral students and members of the VLIR-IUC programme.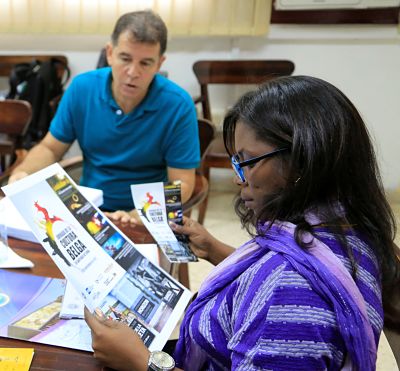 During the meeting, the activities of the celebration of the Day of the Belgian Culture, to be held in the city, were presented before the Chancellor and Assistant Vice-Rectors. Photos: Rovier Mesa.
Translator: Lilia Sanz Gámez.