An exchange with scientific leaders, coordinators of academic programs and heads of research projects was held last Monday in the framework of the Institutional Assessment Process of the Universidad de Oriente. The details of the VLIR-IUC-UO program, in which both the Universidad de Oriente and the Flemish Interuniversity Council of the Kingdom of Belgium are both participants, were presented.
Hipolito Carvajal, PhD, local leader of the project, explained to the members of the National Board of Accreditation how the doctoral training of young aspirants is proceeding, whose greatest number of defenses is scheduled for 2018. "During 2016 both the process of regeneration of activated coal and the training of specialists and technicians of the factories belonging to the rum chain in Santiago de Cuba were consolidated. Along with this, the company Provari from Baracoa has raised the quality of the carbon regeneration process and it was offered some training on heritage education to community leaders and primary teachers in two communities in Santiago: Vista Alegre and José Martí District.
In the third institutional assessment process  the UO is submitted to until next October 6th, the VLIR also shows evidence of the creation and strengthening of undergraduate and postgraduate programs with the participation of Belgian professors. The former also includes the creation of a doctoral program in Biotechnology and of 5 optional subjects for both Pharmacy Sciences and Biology majors, both of them accredited with excellence in 2014 and 2015 respectively.
Dr. Carvajal Falls points out that the study of the microbiota growing in anthropogenic aquifers of the city of Santiago de Cuba and its potential as antimicrobials is also moving forward. "We are currently reporting to science the discovery of new microorganisms through 3 Biology theses.
Among all the reported results, the realization of an inventory of the use of plants for medicinal purposes in the five eastern provinces also stands out. The former is a new tool for the optimization of processes in the neurophysiology service as well as for the analysis of the toxicity of water reservoirs in the eastern part of the country. Such analysis was conducted in the (LESA-CNEA) laboratories, allowing thus determining the types of cyanobacteria existing in the reservoirs. Currently, the National Institute of Hydraulic Resources uses this knowledge to develop policies and protocols so as to prevent acute diarrheal diseases in the population.
Faced with the question of the evaluators in regards to the sustainability of the program after the end of the period, Dr. Hipólito Carvajal explained that in the future the doctoral training plan should be followed, the top priority of which is that young people in training get enrolled into the work with scientific groups within the Cuban academy. Similarly, the assurance of the sustainable management of the project, the improvement of the indicators of science and postgraduate, and the impact on the local development of the eastern region of Cuba are also priorities the project is pursuing.
In the next few days, other places and areas the program is channeled into will receive the visit of more than 40 evaluators from several Cuban universities and research centers, given the impact the Vlir program has had in the Universidad de Oriente in terms of infrastructure, training and science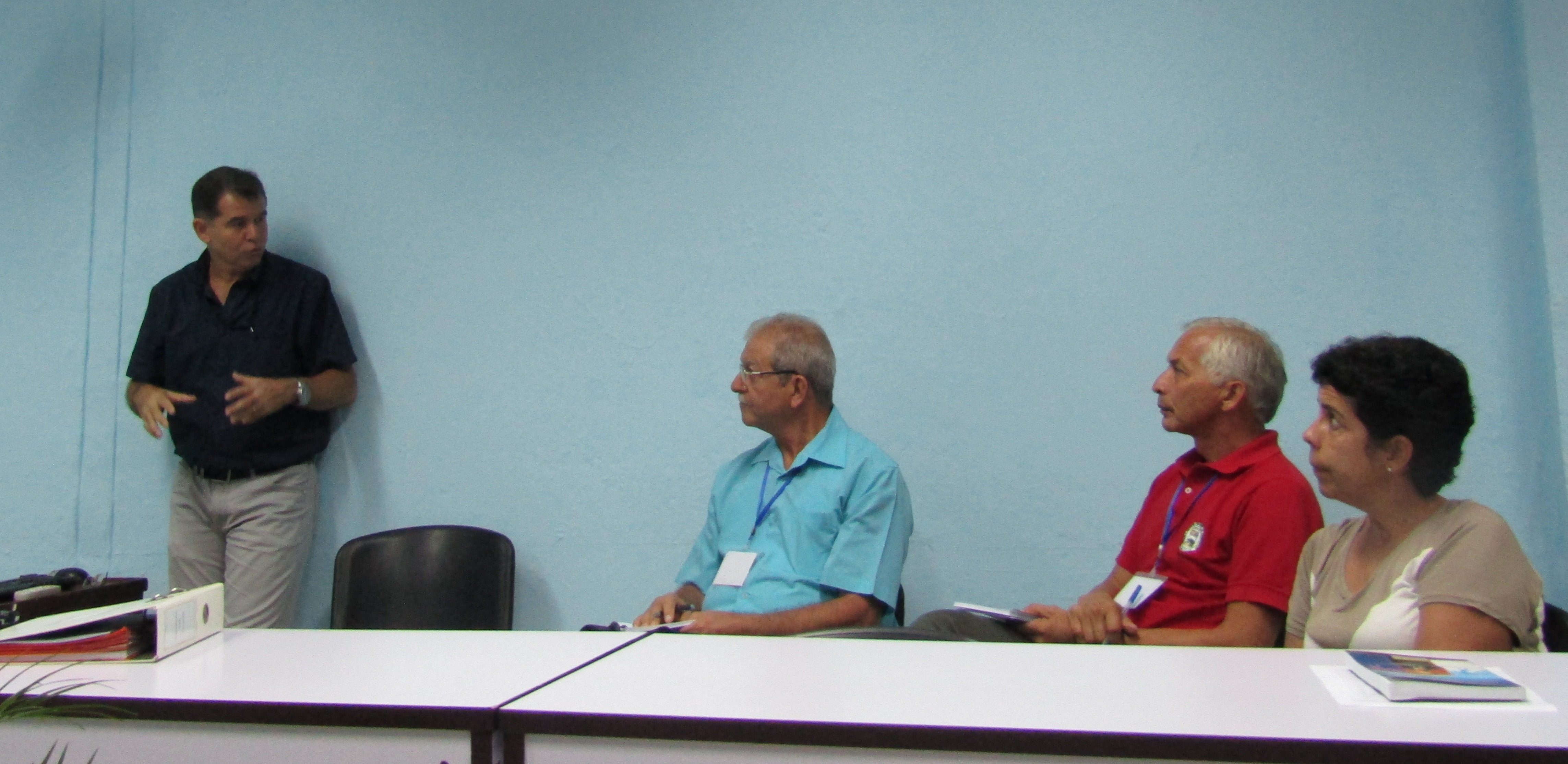 Dr. Hipólito Carvajal also explained how the Vlir program, currently in its sixth year of development, has strengthened the IT infrastructure of the UO and has been tempered to national and local priorities. Photos: Courtesy Dr.C Angel Luis Brito Souvanell. Translator: Maite Elisa Palacios Herrera