Aspiring PhD candidates from the VLIR-UOS program and members of the other 28 doctoral programs at the Universidad de Oriente gathered in the Soto del Rey Room this week. The purpose of this meeting was to have an exchange with academics from other parts of the country on the quality of the doctoral training.
Jesús García Días, an aspirant of the P3 which is focused on the development of biopharmaceutical products from natural sources and with which it is intended to build a biotechnological capacity in eastern Cuba, pointed out that in regards to the doctoral training, the program VLIR-IUC is crucial because it has equipped several laboratories, whose purpose is to favor the research conducted in eastern Cuba. "Research necessarily reach its final stages in Belgian laboratories, support is therefore essential."
Dr. Rolando Omar González representing the assessment committee as well as the Vice-Chancellor of Research and Postgraduate Studies Dr. Rosa María Reyes Bravo on behalf of the Universidad de Oriente, took part in this exchange. During the said meeting, the candidate Yohandys Zulueta Leyva, who is due for becoming a doctor next November, pointed out that research stays in Belgium are essential to complement studies and participate alongside supervisors and other academics in the writing and publication process of scientific articles.
Other candidates such as Luis Bello Caballero and José Carlos Rodríguez Tito made reference to the importance of self-preparation and English language proficiency, and commented on the work of TP3, which aims at strengthening foreign language skills in the areas of science and technology.
Currently the doctoral training that supports the VLIR-UOS under partnership agreement with the Universidad de Oriente reports a greater number of aspirants in the field of ​​Natural and Exact Sciences, 13 in toto. Of the 41 aspirants enrolled, the highest number of dissertations is expected by 2018, a few months after the end of the first six years of the program in Santiago de Cuba.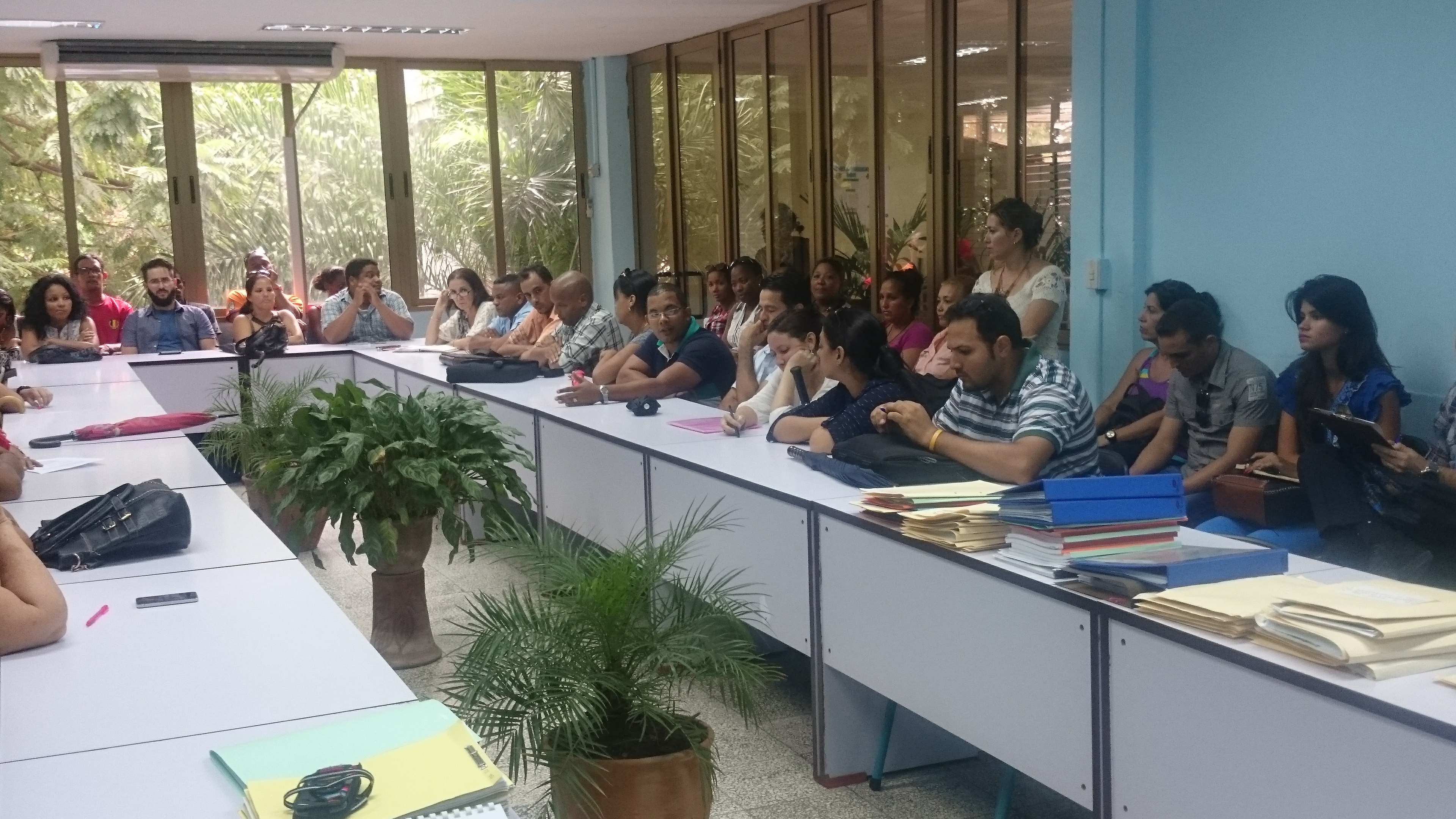 The exchange with young doctorates took place in the context of the institutional evaluation that the University of the East lives until October 6, in which academics from all the provinces of the country participate. Photos: Courtesy of Lic. Miriam Pérez González