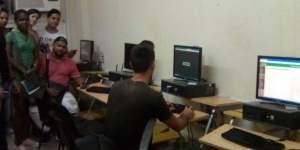 Fourth year students of the Telecommunications and Electronics Engineering devoted a week from their internships period to collaborate with the Computerization Directorate. They carried out tasks necessary for the installation of Wi-Fi equipment already located in our campus thanks to the management of the VLIR IUC Universidad de Oriente Program.
This decision was made in the brigade assembly on the 9th Congress of the FEU, since this variety of study is a current priority for the Computerization Directorate of the UO. MSc. Lidice Romero Amondaray explains that "the students sited the access points in various positions of the buildings in order to conduct measures of the quality of the signal received in the premises and common areas of each floor, with a Wi-Fi analyzer installed in their cell phones. As a result, suggestions were made to the Department of Networks of the Computerization Directorate regarding the places where future access points can be located and, fundamentally, where to relocate those that are currently in use with the purpose of providing a better service. "
With this exercise, students strengthened their skills on the efficient management of telecommunications networks and radio systems. Professor Neurys Fonseca was in charge of designing the practical exercise, and specialists Kader Portales and Jorge Hernández from the Computerization Directorate provided technical advice to carry out the work. They were also given an opening lecture on the particularities of the Wi-Fi service at the Universidad de Oriente, Romero said.
MSc. Lidice Romero Amondaray, professor and member of the project coordination team in charge of the Technological Infrastructure for Computerization and Communications (TP1) in the VLIR IUC Oriente Program, explains that among the areas studied, we can find: the Rectorate Building, the Faculty of Electrical Engineering (FIE) and the Faculty of Engineering in Telecommunications, Information Technology and Biomedicine (FITIB). "In the 4th year, pre-professional internships period must be associated with telecommunications systems, which is why this work contributes to meeting the year's objectives. In this week, the students were able to verify, in a practical way, the knowledge learned in subjects such as Transmission Systems, Antennas, Networks I, Networks II, Radiocommunication Systems I and Network Management ".
In this activity, Professors Berta Pallerols Mir, 4th year Senior Lecturer in the Telecommunications and Electronics Engineering major, and Neurys Gómez Fonseca, professor of the integrative discipline of the year, participated.
Through the VLIR IUC Program, the Universidad de Oriente has received important equipments of computers, printers, UPS, switches and other add-ons that, in general, bolster the computerization of university processes.
Eloy Oliveros, Director of Computerization, points out that this study will be validated soon by the specialists of the area in order to take into account all the elements before making the final decisions about the installation of the Wi-Fi equipment. However, his team made available to students the equipment and software necessary to carry out the study.
Translator: Lilia Sanz Gámez