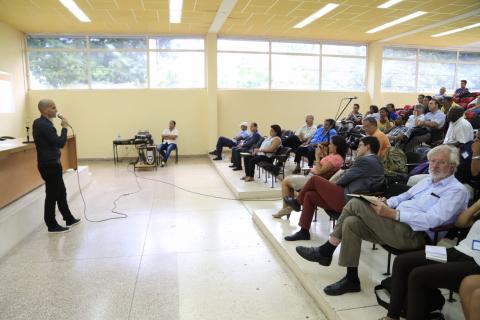 By: Haydeé María Quiala Pérez
With the aim of consolidating links between the Universidad de Oriente and the enterprises of the territory, the Technology Transfer Workshop was concluded as part of the First PhD Scientific Workshop.
This meeting served as a platform to show how the university manages intellectual property and the transfer of technology from science.  Research related to the production of horticultural mini-gardens, the obtaining of biopharmaceutical products and computer platforms, among others,were presented during several days.
This allowed the formation of eight projects that have a high impact on society due to their application. Belgian and Cuban professors put together the business plans of the exhibited works to determine the real economic feasibility that would allow them to support themselves over time.
The three best pieces of research were selected, which will be posted on the platform of entrepreneurship and technology transfer of the Free University of Brussels (VUB) for a year, to receive financial support. The chosen ones projects were: Claustrofobias: Literary promotions, FATLAB UO: Laboratory for the development and transfer of technology, and Agro-ecological mini-gardens in the community around the Julio Antonio Mella campus. The best work will be awarded at the end of the event..
Translator: Lilia Sanz Gámez.