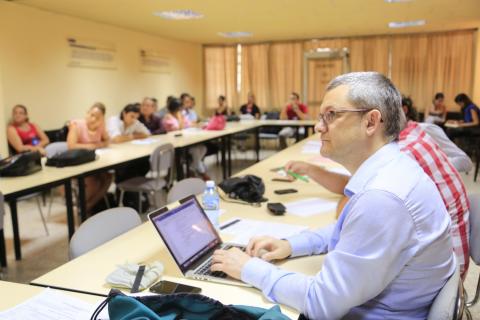 Por: Haydeé María Quiala Pérez
The First PhD Scientific Workshop has become the ideal platform to visualize scientific projects of great social impact.
The fourth and final work session continued with the presentation of the pieces of research of the PhD candidates, carried out in two modalities, oral and posters presentation..
Julio Alberto Rojas Vargas conducted a study on the synthesis and characterization of new imidazoles with antiparasitic activity and their inclusion complexes with cyclodextrins. He focused his research on three of the thirteen more neglected diseases of Latin America: the sleeping sickness, Chagas and lehismaniasis.
In contrast, Yisel Rodríguez Aldana exposed the detection of non-convulsive epileptic seizures using multimodal data analysis. Using three-dimensional tensors, she analyzed the electrical activity of the brain. MSc. Yamilka Alonso Geli presented her results in the diagnosis of molecular markers in cancer, by the magnetic resonance technique, which would allow an early diagnosis of this disease.
Silvia Molina Beltrán showed the effectiveness of the seed extract of perseaamericana mil (avocado) in the posembryonic development of the house fly. MSc. Clara Berenguer Rivas showed the pharmacological impact of the chemical composition and antioxidant activity of the adeliaricinella L., better known as the jia blanca, due to its anti-inflammatory, analgesic and abortive properties.
For MSc. Yamilé Heredia Díaz, the ethnobotanical study of medicinal plants used by the Holguín population in eastern Cuba, is vitally important to explore and report their use in natural medicine. This study shows that the 195 most used plants belong to 70 botanical families, and are managed for the treatment of various pathologies. The guanábana, the caña and the llanten stand out.
Other topics related to biopharmaceutical products and their application in biomedical sciences were presented in this commission.
The Universidad de Oriente along with the Flemish Interuniversity Council of the Kingdom of Belgium enhance the scientific rigor of the PhD students, future scientists who will continue to perfect the work of this higher education institution.
Translator: Lilia Sanz Gámez.