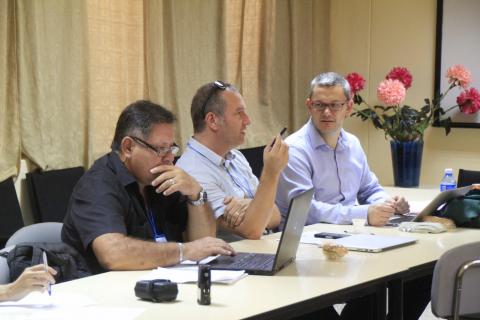 Submitted by: Haydée Quiala Pérez
The third day of the First PhD Scientific Workshop that takes place at the Universidad de Oriente started with the presentation of the PhD students' research projects. In commission number one, topics related to biopharmaceutical products and their application in Biomedical science were addressed.
Dr. Gabriel LLauradó Mauri presented the results of his research, regarding the evaluation of water-soluble fractions of an edible mushroom, pleurotusm with possible immunomodulatory effects. Also, Dr. Yilan Fung Boix presented an anatomical and phytochemical study of Rosmarinus officinalis L. irrigated with water treated with a static magnetic field. Because of its characteristics, this plant would serve as a compound to introduce an antioxidant medicine, which can help address diseases in the liver.
Daniel Méndez Rodríguez, a chemist from the Team Project of the University of Camagüey, spoke about the antioxidant activity of proanthocyanids from the stem bark of maytenus buxifolia subsp cajalbanica, through its characterization and understanding for future studies that allow insertion in the pharmaceutical industry. On the other hand, Jesus Garcia Diaz belonging to the P-3 argued the importance of the phytochemical and pharmacological study of the leaf of Croton linearis Jacq.leaves
The high-performance search tools in the taxonomic identification of bacteria producing antibiotics allowed the biologist Miladis Isabel Camacho Pozo to isolate and identify a new species of actinomycete, a filamentous bacterium that lives in the soil of the micromonospora genus. This stands for a relevant scientific achievement in the field of the creation of new antibiotics.
Lilien Fajardo Rosabal spoke about the use of plant biotechnology as a tool for the production of active ingredients of pharmacological interest through the effect of salicylic acid in the formation of cell masses of Theobroma cacao L.
The projects coordinated by the Universidad de Oriente and the Flemish Interuniversity Council of the Kingdom of Belgium, constitute essential platforms in the training of future doctors. This agreement has allowed PhD students to verify their research results through the necessary technological equipment.
Translator: Lilia Sanz Gámez