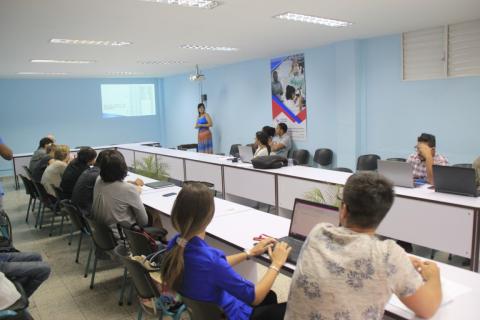 As part of the First PhD Scientific Workshop "Bringing knowledge into practice", participants were divided into three working commissions to show the progress of their research on Wednesday 8th. .
In commission number three, P-1 students presented their studies, related to environmental scientific services for the development of sustainable agriculture and facing climate change in eastern Cuba. TP-2 students also partook in this work session with their research aimed at strengthening basic and natural sciences for innovation.
In accordance with possible situations that can occur bearing in mind what is currently happening with climate change and the intense droughts we are experiencing, MSc. José Carlos Rodríguez Tito, presented a comprehensive study of the chemical and microbiological quality of the reservoirs of eastern Cuba, taking into account the international regulations.
MSc. Ania Margarita Cutiño Jiménez, from the Faculty of Natural and Exact Sciences of the Universidad de Oriente, who participates as a guest, presented her work related to molecular markers for the taxonomy and phylogeny of the xanthomonadales order.

"We, professors see each other on a daily basis but we do not know what we are doing. We barely have the opportunity to interact with professors from other disciplines, which would allow us to provide feedback. Carrying out the exhibition in English was a challenge but now I feel satisfied", MSc. Cutiño Jiménez said
During the work session, topics related to cell growth through magnetic stimulation as a microorganism used for biological control, and the modification of activated carbon used by beer producers for the absorption of chromium, were also discussed.
Translator: Lilia Sanz Gámez.