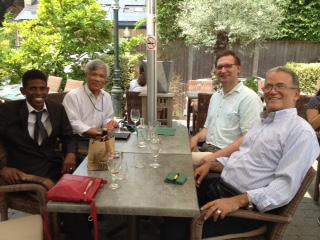 The successful private thesis defense of Yohandis Zulueta Leyva, that took place in the University of Leuven last week, places the Cuban professor a step closer to obtaining his PhD diploma in Chemistry and Physics in the University of Leuven and the Universidad de Oriente respectively.
His public thesis defense is scheduled to take place on November 6th and 11th, as referred by Dr. Hipólito Carvajal, Cuban leader of the Vlir-UOS program in the Universidad de Oriente.
This researcher works in the field of Material Sciences. According to one of his promoters, Dr. Pedro Muné Bandera, "this is a theoretical study of ionic conductors modelling, which are materials used in manufacturing batteries. Work is being conducted in terms of enhancing the properties of these materials and some others used in thermonuclear plants. Even though the study is in its first stages, his scientific publications, which have already been quoted and proven to be useful to science worldwide, are undoubtedly a first breakthrough. As a student, he has worked independently and we expect that his predefense thesis in Belgium and posterior thesis defense in Cuba, prove to be successful academic exercises".
Moments after his predefense in the University of Leuven, Belgium. Yohandis Zulueta (first on the left side) Photo: courtesy of Lut Baten.
Translator: Lilia Sanz Gámez.