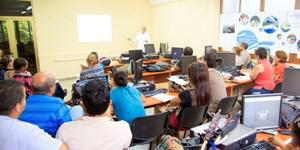 During this week it takes place at the Center for Teaching of Foreign Languages ​​at the University of East (CATFLAg) Training Seminar Design Assessment by the Common European Framework of Reference for Languages ​​(CERF). The course, which involved 28 professionals, is taught by specialists from the Netherlands.
Frank Van Splunder, University of Antwerp (Dutch: Universiteit Antwerpen, UA) and Estelle Meima, University of Groningen (in Dutch: Groningen Rijksuniversiteit, RUG) directed this activity, developed under the auspices of Project 3 "Strengthening foreign language skills in the areas of Science and Technology "Program for Institutional University Cooperation between the East and the Flemish Interuniversity Council.
The academic program aims to train teachers of universities santiagueras (East and Medical Sciences) indicators to measure who can achieve category B1 of the Anglophone language. Therefore, in line with the new provisions of the Ministry of Higher Education which stipulate the requirement, from next year, that level of language for those who aspire to university degrees.
In addition to training in the evaluation system CERF model, whose use has spread internationally, the course will also address the indicators Test Of Inglés as a Foreign Language, a standardized test of English language proficiency designed in the United States.


Teachers were trained in universities santiagueras indicators to measure who can achieve category B1 of the Anglophone language


Frank Van Splunder Professor, University of Antwerp, was one of those responsible for teaching the CERF model