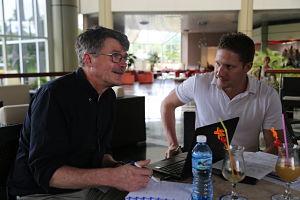 The Latin American Hub for the Preventive Conservation of Cultural Heritage, known as the North-South-South project, concludes an important stage of work in the Universities of Leuven, Belgium; Cuenca, Ecuador and Oriente in Santiago de Cuba, with new insights for the theoretical and methodological improvement of preventive heritage conservation.
On his recent visit to Cuba PhD. Koenraad Van Balen, leader for the Flemish side, highlighted as some of the main results the academic exchange between researchers from Cuenca, Santiago de Cuba and Belgium. "For us, it is very important to work together with professionals from southern countries on this issue. The project has contributed to the development of new, less costly conservation strategies that involve the population in concrete actions, which seems very important to me. "
According to Van Balen, director of the Raymond Lemaire International Centre for Conservation, the work in Ecuador and Cuba has also served to better understand this concept in the European reality. "They are very different situations, for example, bringing together various actors of society in the direct maintenance of buildings in Belgium would have been impossible."
On behalf of the Cuban side, PhD. María Teresa Muñoz points out that the North-South-South project advanced in the understanding and conceptualization of preventive conservation on built heritage; promoted the development of doctoral theses in Cuenca, Santiago de Cuba and Belgium; and led to the development of joint scientific articles. "Seismicity was addressed as an element of fundamental risk in both Latin American cities, fostering a necessarily interdisciplinary approach. In addition, in terms of heritage education, we worked in synergy with the VLIR project P4 of UO in promoting the use of new technologies for information and documentation on heritage.
Both scholars coincide in the fact that this project will clear the path for new academic exchange opportunities, in order to advance in comprehending this mew methodology of conservation that addresses built heritage from the analysis, diagnostic, therapy and control.
Photos: Rovier Mesa Rodríguez
Translator: Yoennis Díaz Moreno