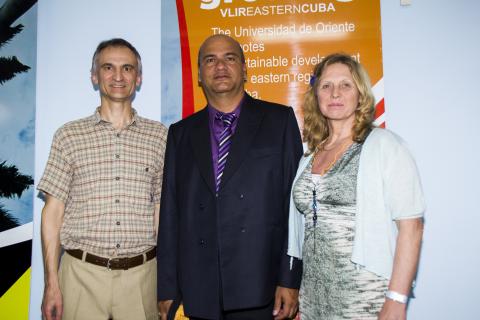 Teachers and members of the project "Strengthening Foreign Language Skills for International and Intercultural Academic Activities" at the Universidad de Oriente are working on the first booklet showing the Vlir-Cuba joint experience of English language teaching with academic purposes, after five years of uninterrupted work.
According to Dr. Jean Van Maele, who recently visited the city, the booklet has a novel pedagogical approach, result of the Vlir-Universidad de Oriente joint work. "In Santiago de Cuba we have had more technology compared to what we did in Santa Clara. In the booklet we propose all the materials that are used for teaching English, a description of the different profiles, examples of the classes, the way in which we are teaching English language, etc".
The booklet is one of the most important results of Transversal Project 3 "Strengthening foreign language skills for international and intercultural academic activities". Dr. Van Maele also pointed out that articles from the participating teachers will be included, showing mainly the integration of language and intercultural communication. "For me, it is very important that this effort motivates and supports other teachers in language learning. Contents are very accessible to everyone. "
The booklet will have a printed and digital version and will be socialized in Santiago de Cuba during the First PhD Scientific Workshop "Bringing knowledge into practice" (6-11 November 2017). During this workshop, Dr. Jean will offer the System Thinking workshop on how to think things through as systems. "PhD students are often taught how to focus their subjects very well, however I intend to show how once they have completed their PhD theses, they can expand their knowledge and connect them to other areas, along with other researchers, so that everything works as a system."
Regarding the goals set for the second stage of the Vlir-UOS program, Van Maele states that he hopes to expand the experience in the virtual learning center. "We would like to have a center for international exams, as well as have other professionals receive training. That is a very important task for our project. "
Photos: Rovier Mesa. (Archives Department of Communication) 
Translator: Lilia Sanz Gámez.