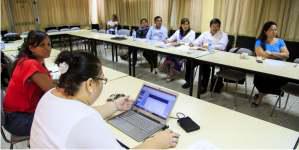 From January 11th to 18th, the National Centre for Applied Electromagnetism (CNEA), hosted the scientific workshop "Understanding the livestock-environment interaction" which gathered specialists form the National Agrarian University La Molina (UNALM), Peru, and from the Universidad de Oriente (UO).
This is the third workshop organized by the Project 1 of the Institutional Cooperation Programme conducted between the Universidad de Oriente and five universities in the Kingdom of Belgium, with the support of the Flemish Interuniversity Council (VLIR).
In an interview for La Tablilla, Liliana María Gómez Luna, PhD. coordinator of the event highlighted that this space allows South-South cooperation through the financial support of the European nation, to encourage the developmentof animal production, specificallycattle, which in the Cuban caseis a governmentpriority.
"It seeks to reason the functioning and integrated management of productive agroecosystems and elements of environmental costs of animal production, but not only in the productive sector. It is important to take this understanding to the training engineer" Gómez Luna added.
Such impact in the education should be expanded with the development of educational materials and the perfecting of programmes in related fields and also, the inclusion of research topics in the academic curricula of the Faculty of Agricultural Sciences (FCA).
Among the topics discussed are: the CNEA's scientific result in relation to the magnetic field applications in the agriculture and livestock, the university education through exchange with researches of the Higher Education Studies Centre "Manuel F. Gran" from UO; and a workshop on approaches to sustainability in this area of knowledge; among others. On Thursdaya meetingwith local producerswas conducted tomeettheir real needs andhandicapsof their work.
The experience gathered in these areas by UNALM expands the potential of the project. The Peruvian University has an infrastructure that allows the research and production of livestock and dairy products.
Their specialists come to this meeting interested in the study of agrosilvopastoral* systems in Cuba. Therefore, it is expected a visit to the Experimental Station of Pastures and Forages "Indio Hatuey" in Matanzas, on the 19th, as the final activity of the workshop.
*The agrosilvopastoril systems (SASP) are a set of techniques for land use involving the combination or deliberate association of a woody component (forest or fruit) with livestock and / or crops in the same field, with significant ecological interactions and / or economic or only necessarily biological between components. Source: Ecured.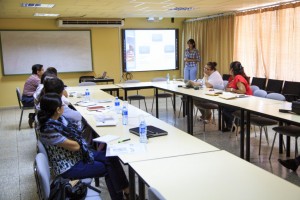 In CNEA' meeting room, academics from Cuba and Peru exchange about livestock and environment interaction.
Photo: Rovier Mesa Rodríguez
Written by: Eduardo Pinto Sánchez
Translated by: Yaimara Batista