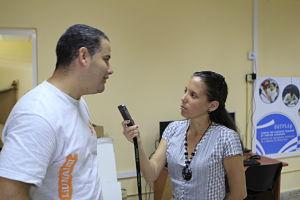 For almost five academic years, the CATFLAg language lab has formed in English language around 150 academics, professionals of the basic sciences, natural, exact, humanistic and others, as part of the VLIR programme transversal project "Strengthening Foreign Languages Skills for Intercultural and International Academic Purposes".
The latest change in location of the lab, comes with extended benefits to students, trainees and trainers. Furthermore, it improves language teaching for graduate studies with autonomous and interactive methods. As commented by MSc. Yoennis Díaz Moreno, Professor of English Language at the Center for Advanced Teaching of Foreign Languages ​​(CATFLAg), the mission of the lab is to promote autonomous language learning, mainly English, for academic purposes for teachers and researchers.
The lab is located now in one of the teaching buildings of the Campus Mella. The students that receive more personalized attention are those who are supposed to present their research, MA or PhD, to joint Cuban-Flemish boards. Regarding the equipment, Díaz Moreno specifies that two lab classrooms have been fully equipped, one of them with 10 computers and capacity for double students, and another with 12 computers and higher flexibility in the layout of the space depending on the academic requirements and needed interaction. There is also a teacher room with two computers and printing service, which, as well as the two classrooms, has access to internet and optimal technical conditions including headsets and webcams.
Although some cosmetic constructive details are still to be completed for the lab to be fully operational, classes are now taking place. These courses have been subdivided into four profiles, which range from basic, intermediate to advanced and named Profile 0, 1, 2 and 3.
"Courses last between 12 and 14 weeks, with a personalized attention – says Díaz – especially in the case of the advanced, which translates into working directly on the theses and presentation of scientific articles, paying special attention to the academic conventions of European universities.
The English teachers of the CATFLAg have also received an important update in Belgium and in Cuba by means of workshops and mentoring by Flemish team members on how to teach languages ​​for specific purposes for science and technology and empower students by giving them tested autonomous language learning tools. We have done a lot of work in terms of language testing and assessment, in order to adjust as much as possible to the Common European Framework of Reference. The idea is to be able to match and validate as much as possible the language levels we give graduate students in UO to those they will evaluated by at University of Antwerp in Belgium, for example."
Coinciding with the beginning of his professional career, the direct participation in the VLIR project since the very beginning, has meant a significant learning curve for Professor Yoennis. "In a general sense, it has created for me a working style that combines the methodologies of both universities, allowing me to specialize in language teaching for graduate studies since I was a trainee. You learn a great deal both academically and personally."
What was the hardest part?
The subject of the language testing and assessment validation, that is, trying to match from our context our teaching and testing skills to those required by universities in Belgium.
Are you satisfied with the work with the Belgian counterpart?
Indeed I am, they have been very demanding and treated all work conventions with a high professional level; again academically and personally.
Photos: Rovier Mesa Rodríguez
Translator: Yoennis Díaz Moreno